The Challenges and rewards of working with nonprofits
There can be many challenges and rewards when working with nonprofits. First, there can be many budget restraints and precisely what can be done with those funds. Next, typically there are board members that you will need to answer to. At Roskelly, Inc., we pride ourselves on the number of nonprofits we work with and some of the ongoing working relationships of almost 25 years. You will see a small sample of work we have created for some of our nonprofit clients. Just because it may have a low budget doesn't mean you still can not create the best for everyone.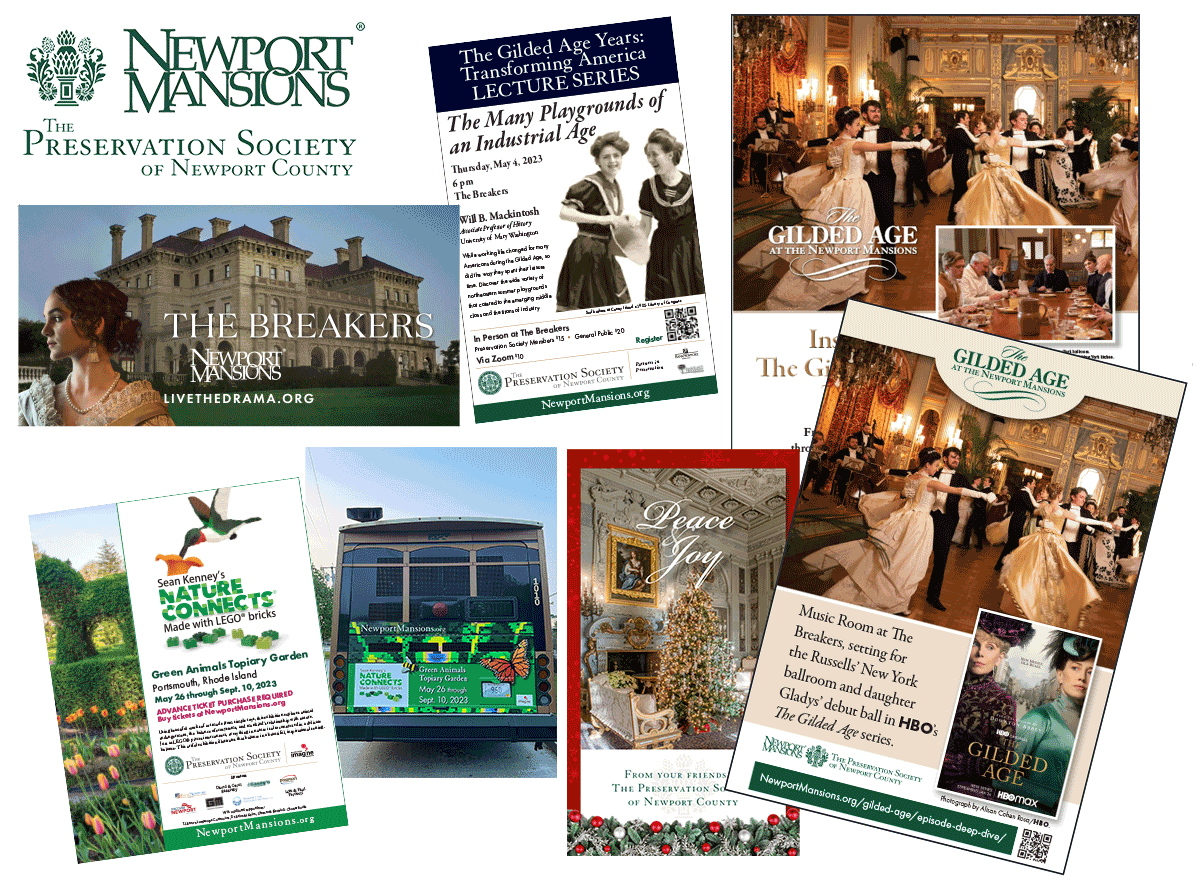 "The sophistication and effectiveness of his work are outstanding."
"Put simply, Tom is the right arm of my marketing department. Tom has played a major role in the majority of our branding and design work since the late 1990s. The current Newport Mansions logo is just one of his major contributions. The sophistication and effectiveness of his work are outstanding.
You know what a challenge branding is for non-profits. Tom has displayed considerable dexterity in understanding our institution's unique mission, vision, and values, and he tailors specific creative marketing opportunities to align with those goals. He is cognizant of the budget challenges cultural institutions are forced to operate within, and he develops approaches to address those challenges. Tom is an excellent listener and communicates clearly and effectively. I would strongly urge you to consider him for your long-term strategic communications needs."
John G. Rodman, Director of Museum Experience
The Preservation Society of Newport County The Newport Mansions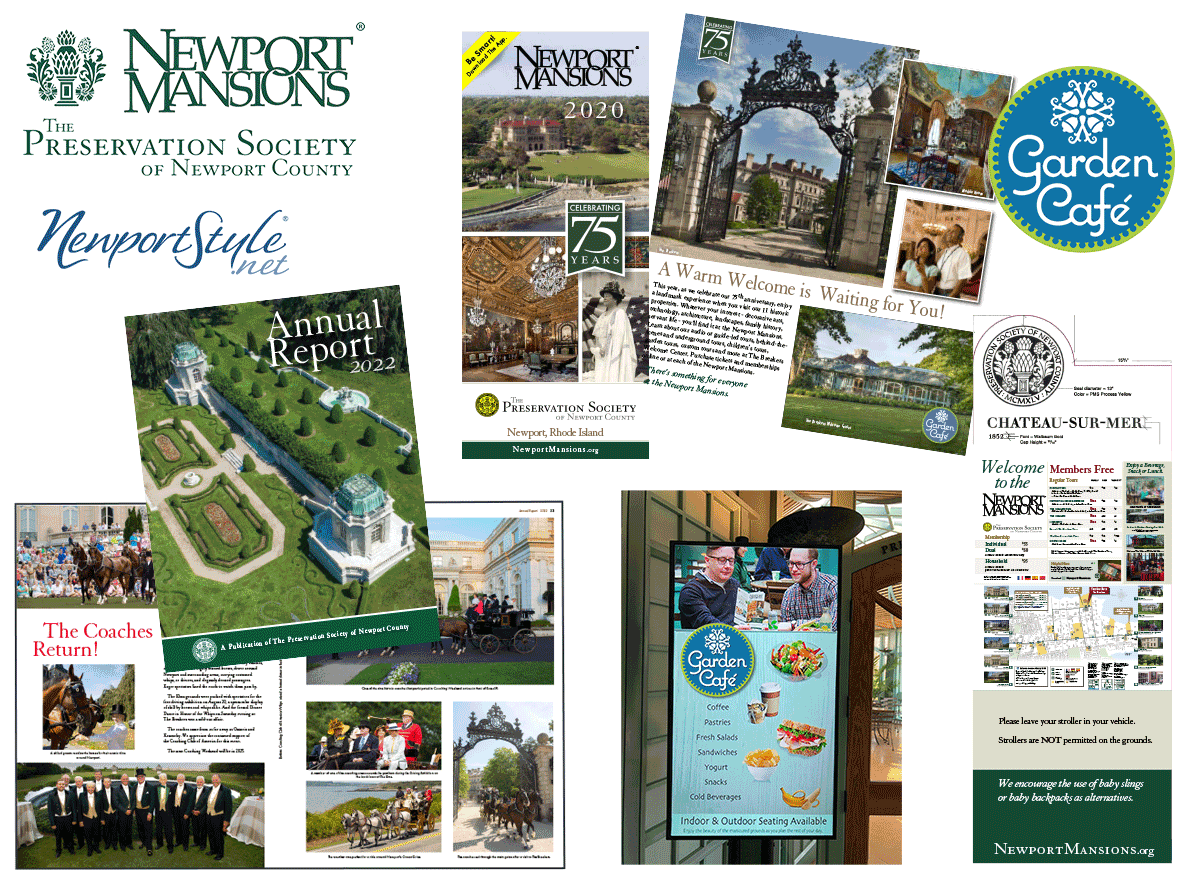 "His imagination is sophisticated and his instincts are always on-target."
M. Christie Smith, Executive Director of Potter League for Animals "The genius and originality of Tom Roskelly continue to amaze me. The logo he designed for the Potter League for Animals 18 years ago was perfect, and yet he found ways to update it, enhance it, and make it more perfect. His imagination is sophisticated and his instincts are always on-target. Tom's passion for good design is intuitive – he just knows exactly the right thing to create for each client. Tom works with an enthusiastic twinkle in his eyes and an easy laugh, and I always leave a meeting feeling great and saying, 'WOW!' "
Pat Heller, Director of Development for the Potter League, says, "We were amazed that Tom could improve upon what we thought was the perfect logo. His redesign brought our logo to the next level and strongly expresses the Potter League's mission of a deep commitment to caring for animals, which enriches the quality of life in our community. Tom has such creative genius and is a pleasure to work with. We always look forward to the remarkable materials he produces."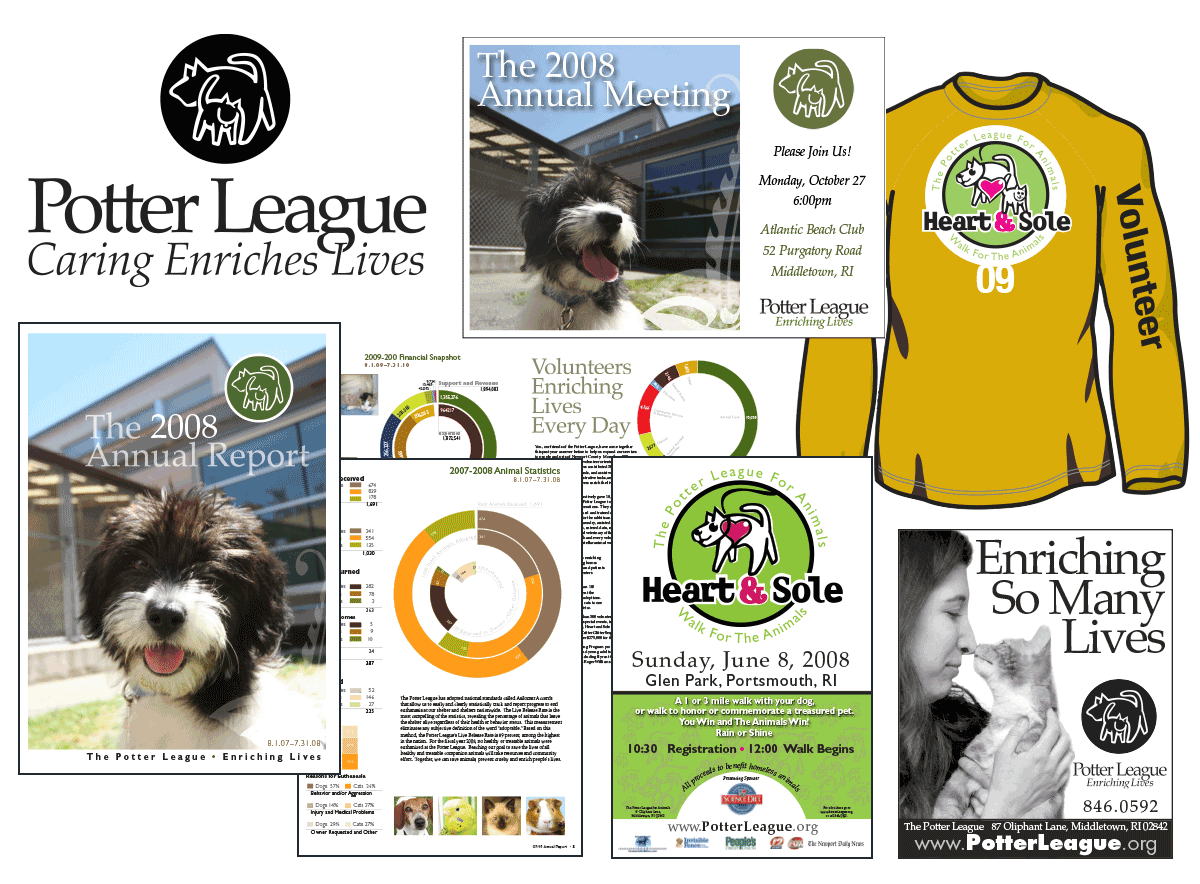 "
He was always highly
respectful of each idea and
suggestion, and made us
feel like a partner in the
creative process."
"It is with great pleasure that I highly recommend the work of designer Thomas Roskelly. We chose him from among a small group of exceptional - and nationally known – designers, based on the high quality of his designs and his ability to work well in a collaborative setting.
As you might imagine, some designers do extraordinary work but are less successful in receiving and incorporating suggestions into later drafts. Mr. Roskelly was an excellent partner to our volunteer committee during this process, going so far as to incorporate changes in his designs during our meetings. He was always highly respectful of each idea and suggestion, and made us feel like a full partner in the creative process.
Mr. Roskelly will go quite the distance in addressing the client's needs, but we never felt that he compromised his vision or quality in the process. We valued our experience with him, and would, without question, enjoy working with him in the future."
Randall Rosenbaum, RI State Council on the Arts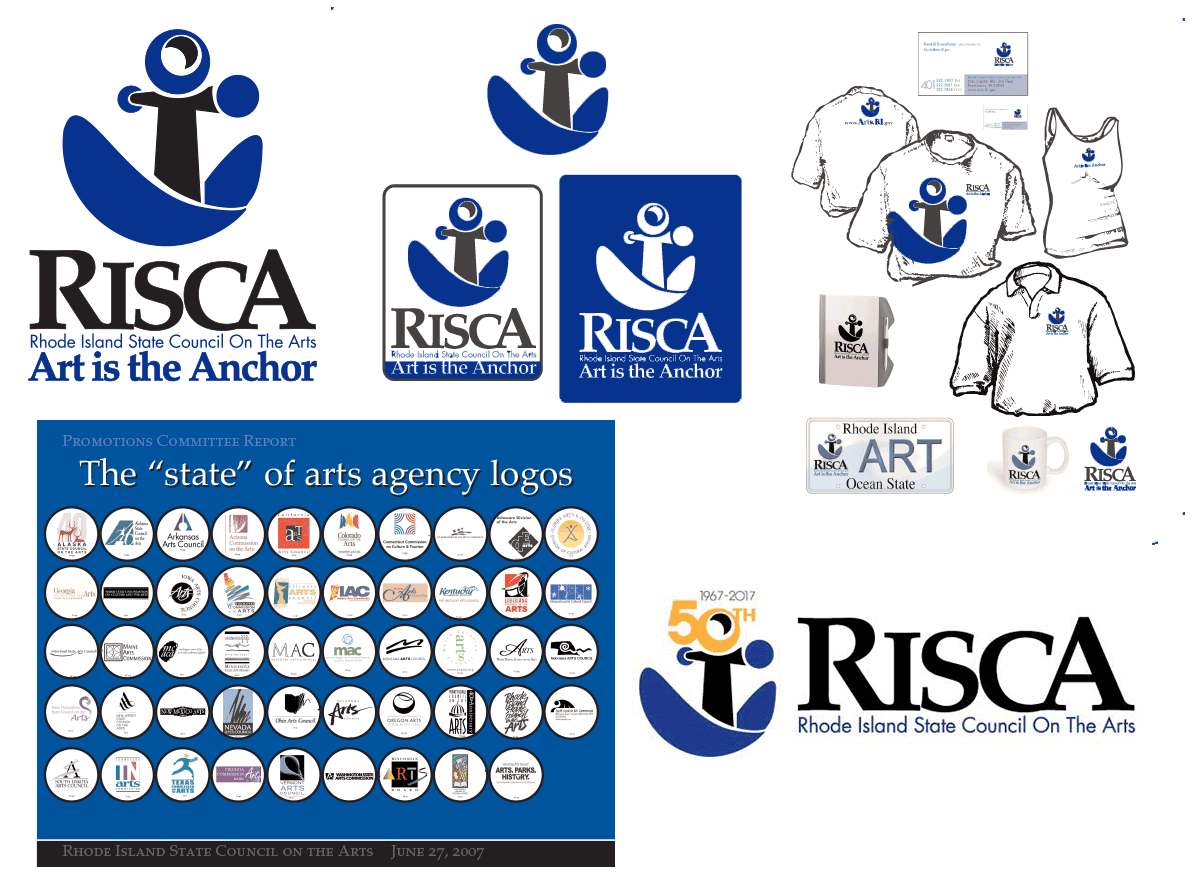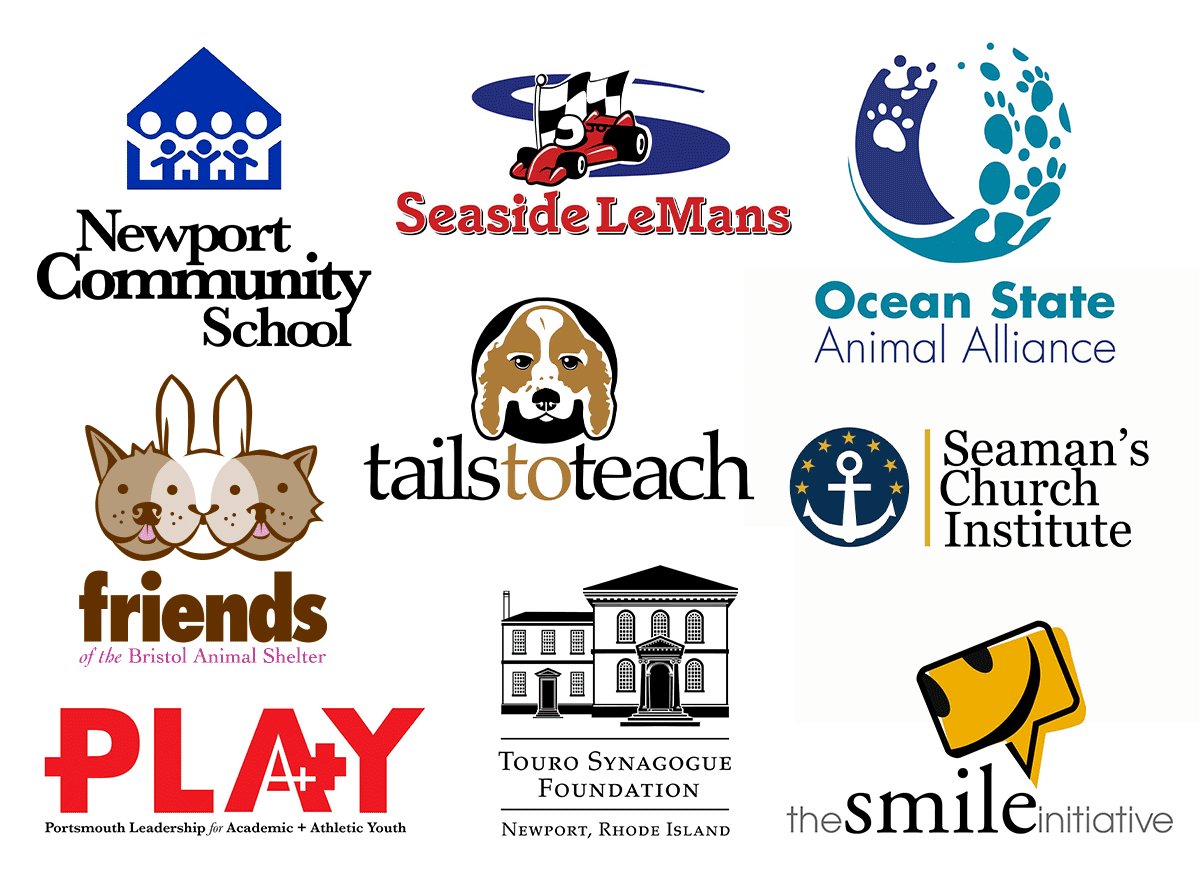 Newport Community School
"The playfulness and energy of the logo, hits the mark on so many levels. The more you look the more pieces you see."
Eric Thomas, Principal,
Thompson Middle School,
Board Member,
Newport Community School
Seaside Lemans charity race for Cape Cod Community
"Nearly $9 million has been raised through sponsorships and matching gifts since the race began in 2001. All proceeds of the event are donated to The Cape Cod Foundation, which distributes 100% of each year's funds to the designated beneficiaries chosen for the year.
Ocean State Animal Alliance
"One of the best logos I've seen in my industry."
Christie Smith, Executive
Director, Potter League