We hear it repeatedly and are more than gratified because, quite frankly, Roskelly Inc. is inspired to do it again. For many years, creative director Tom Roskelly has said:
We don't create to win awards. Instead, we focus on branding that helps our clients achieve their objectives. Because of that, we win awards.
The awards listed here are from our peers. And we are not only profoundly grateful but humbled because this recognition comes not from consumers reacting to what is for many superficial artistic brilliances but from our peers, those in the industry who appreciate the thoughtful effort behind the design and the process. Of course, our primary motivation is always our client's success and to create a brand package with a reason and purpose: to move an audience into action.
We always seek to elicit a positive reaction, inspire, change attitudes, educate, buy, and create a demand.
By enjoying these awards, we know that, if only in the eyes of our peers, our goal has been reached; however, far more critically, we know our client's goals have been surpassed.
Contact us today to see how we can create a memorable brand for you, your company or products.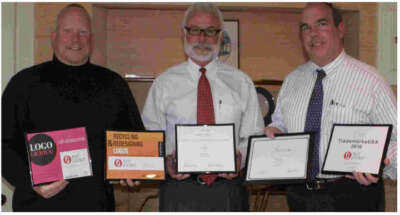 American Graphic Design and Advertising
Book #29: LAXRAT logo Best of Category Award
Book #29: AlphaBroder logo
Book #29: Dillabox logo
Book #29: Evelyn M. Howe Memorial icon
Book #29: Evelyn M. Howe Memorial Brand
Book #29: AllUSAry logo
Book #29: Michaud Insurance logo
Book #29: UnderSea Science Education Foundation USEF Brand
Book #29: USEF icon
Book #29: Azartiy logo
Book #29: BankNewport logo
Book #29: East Bay Economies Partnership Brand
Book #29: East Bay Economies Partnership logo
Book #29: Tails to Teach Brand
Book #29: Tails to Teach icon
Book #29: Finn & Rodriguez Wealth Management Brand
Book #29: Finn & Rodriguez Wealth Management logo
Book #29: Avocitos Mex Grille logo
Book #29: Pelham Public Library logo
Book #29: LAXRAT icon
Book #29: Pamela Riesenberg Mortgage logo
Book #29: Vila120 logo
Book #29: New England Green Cow logo
Book #29: Aquidneck Island Striper Team logo
Book #29: BenchMark Office Systems logo
Book #29: Belasary Jewelery logo
Book #29: Alliance Environmental logo
Book #29: J Hawk Builders logo
Book #29: AStar Lighting logo
Book #29: Coyote Smarts logo
Book #28: 375 Portsmouth anniversary logo
Book #28: 350 State of RI Signing of the King Charles Charter
Book #28: Alliance Environmental
Book #28: Force Newport Crossfit
Book #28: Smart Software
Book #28: EFX Gym
Book #28: Fort Adams Adventure
Book #28: HIM Mechanical Systems
Book #28: Ally Coulter Designs
Book #28: Icelighter
Book #28: Tiger Tracey Drywall
Book #28: Seafare Residences
Book #28: ArchPoint Wellness
Book #28: Pam Riesenberg
Book #28: Party Girl
Book #28: SeaWeed a Newport Residence
Book #28: Monaqui Events
Book #28: SignetTone
Book #28: MadeSimple
Book #28: LifeArcher
Book #27: Boss Man Burgers - Logo
Book #27: Discovery House - Logo
Book #27: Boss Man Burgers- Tshirts - Logo
Book #27: izadex - Logo
Book #27: Newport Gulls Baseball - Logo
Book #27: Newport Pediatric Dentistry - Logo
Book #27: Portsmouth Pirates - Logo
Book #27: Middletown Rotary Stakeout - Logo
Book #27: Davol Inc - Logo
Book #27: Save The Bay - Logo
Book #27: Slovenia Native Fish Society - Logo
Book #27: Cooking for Critters - Logo
Book #27: Body & Spirit Massage - Logo
Book #27: Boss Man Burgers - Logo
Book #27: Hurd Construction - Logo
Book #27: Fish Market Koper Slovenia
Book #26: Red Jacket Resorts - Logo
Book #26: Edge Angling - Logo
Book #26: Local Hooker Rods - Logo
Book #26: Jim Rusher Spey School - Logo
Book #26: John Flanders Internet Consulting - Logo
Book #26: Eric the Barber - Logo
Book #26: Advancing Novel Partnerships- Logo
Book #26: Newport Charter Academy - Logo
Book #26: Antique River Logs Face logo - Logo
Book #26: Antique River Logs Full logo - Logo
Book #26: The Salehi Law Group - Logo
Book #26: DBEBZ apparel - Logo
Book #26: GECKO Green Earth Corporate Kindness Organization - Logo
Book #26: Aquafyi - Logo
Book #26: Kids are Key - Logo
Book #25: Newport Old Quarter - Logo
Book #25: Mothers Of Multiples - Logo
Book #25: Ocean State Animal Alliance - Logo
Book #25: Friends of the Bristol Animal Shelter - Logo
Book #25: Friends of the Bristol Animal Shelter - T-Shirt Design
Book #25: Jane's Yacht Service Antigua - Logo
Book #25: Retrievex Inc - Logo
Book #25: Regan Auto Works - Logo
Book #25: Newport Community School - Logo
Book #25: New England Boatworks - Logo/Brochure
American Corporate Identity Awards
Book #24 CityAve - logo
Book #24 TrueNicks - logo
Book #24 Paella Alfresco - logo
Book #24 The Stables at Millennium - logo
Book #24 Hudner Oncology Center, St. Annes Hospital - logo
Book #24 Tori Andreozzi Foundation - logo
Book #24 Guck Boats - logo
Book #24 Ecotope Identity - logo
Book #24 Camara Excavating Co. - logo
Book #24 Blackout band - logo
Book #24 Island Time Clothing - logo
Book #24 Susan Oldrid Interior Design - logo
Book #24 Phillips Communications - logo
Book #24 VisionSwirl Communications - logo
Logo Lounge Books
Book 4, Brands United
Book 5, True Nicks
Animals and Mythology, Bristol Animal Shelter
Animal and Mythology, Island Time Clothing
Animals and Mythology, Octopus Software
Animals and Mythology, Paddle for Pooches
Animals and Mythology, Heart & Sole
Animals and Mythology, Tori Andreozzi
Initials & Crests, Newport Mansions
Initials & Crests, Guck Boats
Initials & Crests, AutoVista
Initials & Crests, GetMoving
Book 6, Fish Market Koper Slovenia
Book 7, Allies script logo
The 1000 Best Logos in the World: BrightBooks
Boss Man Burger Logo
Really Good Logos Explained Book
Camara Excavating Co - Indentity
Guck Boats - Identity
WinkFlash.com - Identity
Designing for the Greater Good
Bristol Animal Shelter
Logolicious
Paella Alfresco
The Tori Lynn Androzzi Foundation
Susan Oldrid Interiors
Trivia Kingdom
The Hudner Oncology Center
InterCity Security
Patricia Glaser
Guck Boats
The Stables at Millenium
Local Hooker Rods
Pizza Plus
Phillips Communications
The Intech Group
Green Earth Corporate Kindness Organization
Red Jacket Resorts
True Nicks
Edge Angling
Regan Auto Works
The Big Book of Logos Awards
Book #5: CityAve - Logo
Book #5: Energy Apparel - Logo
Book #5: Get Moving Walk, St. Annes Hospital - Logo
Book #5: GUCK Boats - Logo
Book #5: Harris Center - Logo
Book #5: Hudner Oncology Center, St. Annes Hospital - Logo
Book #5: Intercity Security - Logo
Book #5: Patricia Glaser Catering - Logo
Book #4: SynQor
Book #4: M4 Image
Book #4: Teezer
Book #4: LureVac
Book #4: Mosquito Magnet
Book #4: Block Island Ferry
Book #4: Cromwell
Book #4: Ballmark Hats
American Graphic Design Awards
2013 AlphaBroder logo
2013 Pamela Riesenberg Mortgage logo
2013 Avocitos Mex Grille logo
2013 Northend Pizza Plus logo
2013 Corrigan Financial logo
2013 H.I.M. Mechanical logo
2013 Pamela Riesenberg Mortgage logo
2013 Brandit logo
2013 ArchPoint Wellness logo
2013 Travis Terry & Company logo
2013 Villa120 logo
2012 Fort Adams logo
2012 Discovery House Annual Report
2012 SMART Trade Show Booth
2012 Plug N Play - Logo
2012 Plug N Play - Web Design
2012 Sea S logo
2012 LifeArcher logo
2012 Ally Coulter Designs logo
2012 Archpoint Wellnes logo
2012 Aubut Rods logo
2011 Rockville Ranch-logo
2011 Rob Ekno -logo
2011 IceLighter -logo
2011 HURD Construction -logo
2011 Eye Care for RI -logo
2011 Budney Aerospace -logo
2011 212 Consulting Group -logo
2011 ProPoint -logo
2011 Town of Middletown-logo
2011 IceLighter-logo
2011 Allie's Tack and Feed-logo
2011 SiBarth Web Design
2011 Potter League Annual Report
2011 Preservation Society Annual Report
2010 Jim Rusher Spey School
2010 ECOTOPE -logo
2010 kids are key -logo
2010 Smile initiative -logo
2010 Fish Market Koper Slovenia -logo
2010 Slovenia Trout protection -logo
2010 Pink Rainbow -logo
2010 John Flanders Internet -logo
2010 Life Changers -logo
2010 Discovery House -logo
2010 Renovating Hope -logo
2010 Ishi Dojo Girl -logo
2009 Ecologic Logo
2009 Eric the Barber logo
2009 Brave River Solutions Logo
2009 Potter League For Animals Annual Report
2009 GECKO logo
2009 MED logo
2009 MED Advertisment
2009 ECOTOPE Business Card
2009 Bristol Animal Shelter T-Shirt design
2009 GoMotion 2009 Catalog
2009 Newport Charter Academy logo
2009 DBEBZ Apparel Icon
2009 Capital Mercury Apparel 2009 Catalog
2009 Red Jacket Resorts Logo
2008 Don's Marine
2008 Intech Type logo
2008 Intech Box logo
2008 Mothers of Multiples Logo
2008 Paella Alfresco
2008 Pizza Plus
2008 Posh-n-Naughty logo
2008 Posh-n-Naughty Signage design
2008 Potter League Logo
2008 Trivia Kingdom
2007 ACBI logo
2007 Advantage Newport logo
2007 CityAve logo
2007 CityAve Special Business Logo
2007 Get Moving logo for St. Annes Hospital
2007 Hudner Oncology Center
2007 Innovative Solutions Logo
2007 Prayer Power Worldwide logo
2007 RISCA logo for the Rhode Island Council on the Arts
2007 Susan Oldrid Interior Design logo
2007 VisionSwirl logo
2007 Young Professionals in Real Estate logo
2007 Newport Gazette for the Preservation Society of Newport
2007 Arnold Palmer Clothing Catalog
2007 Bill Blass Clothing Catalog
2007 Bill Blass Scrubs Catalog
2007 NYNE clothing Catalog
2006 Arnold Palmer 2006 Clothing Catalog
2006 Bill Blass 2006 Clothing Catalg
2006 Energy Apparel logo
2006 GUCK Boats logo
2006 Harris Center logo
2006 interCity Security logo
2006 Nyne Clothing Catalog
2006 Patricia Glaer Catering logo
2004 Ft. Adams Interpretive Signage
2003 American Biophysics logo
2003 Mosquoito Magnet logo
2003 Newport Gazette Rosecliff special
2003 ETCO Trade Show graphics
2003 Red Jacket Resorts Meeting Brochure
2003 Adams Headwear Catalog
2002 Elms Book for the Preservation Society Of Newport
2002 Tightline Destinations Travel Brochure
2001 Gravity Hat Catalog
2001 Preservation Society of Newport County - 2001 Annual Fund
2001 Stuart Dean Brochure
2001 Media For The Arts - 2001 Catalog
2000 Angela Moore - Create Style Ad
2000 Team One Newport - 2000 Catalog
2000 Fiberspar - Brochure
1999 TSA - Brochure
1999 Fiberspar - Campaign
1999 Newport Grand Jai Alai - Wedding Ad
1999 Newport Grand Jai Alai - Rack Card
1999 Cape Cod Chamber of Commerce - Ad
1998 Acumentrics - Kit Folder
1998 Cape Cod Chamber of Commerce - Identity
American Creativity Awards
2007 NYNE Clothing Catalog B2B Merit Award
2006 NYNE Clothing Catalog B2B GOLD Award
2005 Preservation Society Gazette
2005 Davenport Corporate Brochure
Trademarks USA Book
Edge Angling Logo
DBEBZ Logo
Fish Market Koper Slovenia Logo
TrueNicks Logo
Jim Rusher Spey Schools Logo
Newport Charter Academy Logo
Tori Andreozzi Foundation Logo
Boss Man Burger Logo
AquaFYI Logo
Antique River Logs Logo
Advancing Novel Partnership Logo
Eric The Barber Logo
The Connecticut Press Club Awards
Best Online Web Development/Creation
HSMAI - Hospitality Sales and Marketing Association International / Adrian Awards
Platinum 1999 Wayfarers Brochure
Gold 2001 Preservation Society of Newport County Brochure
Gold 1999 Wayfarers Brochure
Silver - 2003 Block Island Ferry
Silver - 2002 Newport Harbor Hotel Direct Mail
Silver - 2002 Preservation Society of Newport County - Brochure
Bronze - 2003 Block Island Ferry - Direct Mail
Bronze - 2003 Preservation Society of Newport County - Brochure
Bronze - 2002 The Hotel Viking - Magazine Ad
Bronze - 2002 Rough Point - Brochure
Bronze - 2002 Newport County Convention & VB - Magazine Ad
Bronze - 2001 Preservation Society of Newport County - Magazine Ad
Bronze - 2001 Red Jacket Resorts - Brochure
Bronze - 1999 Cape Cod Chamber of Commerce - Advertising Series
Bronze - 1997 Cape Cod Chamber of Commerce - Magazine Ad
Bronze - 1997 Cape Cod Chamber of Commerce - Holiday Brochure
Bronze - 1994 Newport County Convertion & VB - Magazine Ad
American Marketing Association GEM Awards
2004 Diamond Award - Preservation Society of Newport County
2002 Emerald Award - Preservation Society of Newport County
2002 Emerald Award - Preservation Society of Newport County
NEMA New England Museum Association
2004 Newport Restoration Foundation Publications Design Award Doris Duke Rough Point - Rack Card & Promotional Brochures
Market's Choice Award
1999 Best Print Ad - ETCO
Diamond Award RIS Paper
2001 Preservation Society of Newport County - Elms Book
Design News
2001 Best Ad Contest - ETCO
Print Magazine
Pepperoni Express - Identity