New Roskelly logo design for the Portsmouth Historical Society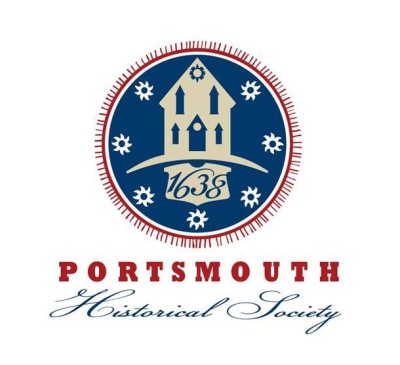 A new logo for the Portsmouth Historical Society, designed by Portsmouth resident and nationally-known branding expert Thomas Roskelly, was recently adopted by the Society board.
Mr. Roskelly designed the award-winning Portsmouth's 375th anniversary logo and is an avid supporter of Portsmouth's history. "The new Historical Society logo symbolizes our town of Portsmouth and how important of a resource the society is," says Roskelly, "our past is a vital part of who we are today and we need to preserve our historical homes, sites and documents for future generations. We believe this new logo captures the character and history of our community".
The logo depicts the Union Church building, built in the 1860s, sitting atop the knoll at the corner East Main Road at Union St., that houses the Society headquarters and museum, along with the date of Portsmouth's founding, 1638. It is surrounded by Portsmouth's seven stars which symbolize the seven islands that comprise the town. The logo is designed to have the look of a patch taken from an old flag or clothing and repurposed to represent the Historical Society today.
Society President, Jim Garman, notes that this logo marks a new direction for the Society: "This logo is a symbol for a revitalized Historical Society that will play a larger role in community affairs going forward. Our members, board members and officers are dedicated to preserving our history and educating the public about it." The logo was adopted at the April 18 meeting of the Society Board and will be used by the Society in decals, bumper stickers and other marketing materials.
The Historical Society was established in 1938 on the occasion of the 300th anniversary of Portsmouth's founding, and is dedicated to the preservation and interpretation of Portsmouth's history. The Society maintains and provides tours of the historical buildings in its possession, collects, conserves and interprets documents and objects linked to Portsmouth historical sites, houses, farms, and families, assists in genealogical and scholarly research related to Portsmouth's history, and presents public programs and exhibitions on topics that build enthusiasm for preserving Portsmouth's local history. A recent surge in Society memberships shows that Portsmouth residents are interested in supporting the Society's efforts. Members can get directly involved in the work of the Society by volunteering in a variety of ways.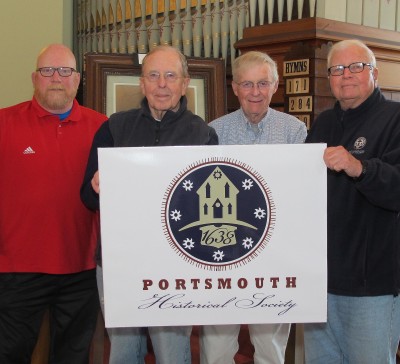 The Society is hosting a member's Open House at the Society on 22 May from 10 am to 2 pm and invite all current and prospective members to come down and tour their museum and other facilities. Learn more about the Portsmouth Historical Society at www.portsmouthhistorical.org