A New Branded Site Makes It Easier for SENEDIA Members to Access Up-To-Date Information
The Southeastern New England Defense Industry Alliance protects the interests of the defense and technology industries in the region. SENEDIA relies on its website to relay up-to-date information to their members, local governments and the community.

However, the website was difficult to navigate and time-consuming for volunteers to update on a regular basis.
SENEDIA asked Roskelly to create a new brand and website for the group. Executive Director Molly Magee was familiar with the work of the Creative Director Thomas Roskelly.
Because the organization works with the defense industry, SENEDIA's new brand incorporates the group's acronym in a stars & stripes design resembling the American flag.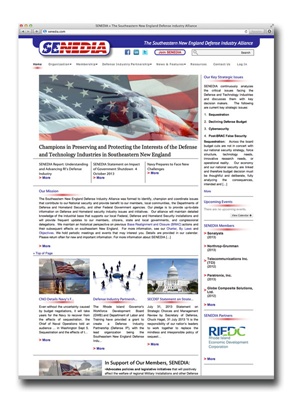 This patriotic theme is then carried throughout the website design, with bolded blue text and red and white stripes used as a design elements.
As this group works with so many of our area's defense contractors, we knew how important it was for this site to be clean and easy to navigate, The volume of information, some of it confidential, has to be readily available to those who need it.
The SENEDIA board was pleased with the new brand and website design.
Magee was delighted with how effortless it is to update the website. She worked closely with Roskelly's web programmer to learn how to make changes herself.
"The team spent a lot of time, answering my questions and addressing my concerns," said Magee. "I feel like I now have a site that I will be able to easily maintain. I highly recommend them."
About SENEDIA:  SENEDIA advocates policies and legislative initiatives that will positively affect the welfare of regional Military Installations and other Defense and Federal Installations, provides elected officials with the information necessary to fully represent the positions and needs of their constituents, enhances the relationships between the local communities, their elected representatives, and the DoD/Federal government organizations, and informs and educates the citizens of Southeastern New England on the critical importance of the Defense industry's impact on the regional economy.  For more information, visit www.senedia.org