Full-service remodeling company a2z Renovations has a new logo built by Roskelly Inc. branding and graphic design firm.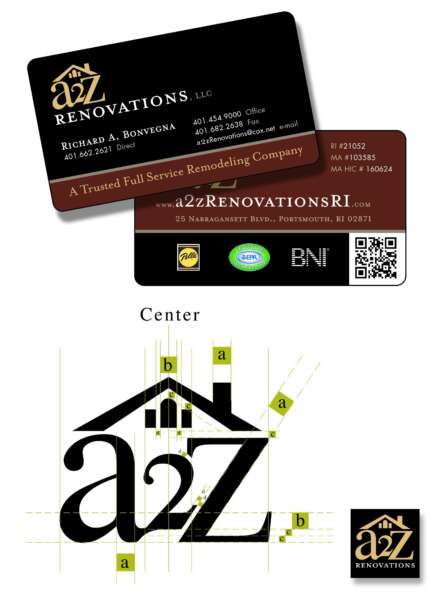 Bristol and Portsmouth, RI-based building and contracting firm a2z Renovations started in 2002 as a solo handyman venture. Over the years, thanks to a dedication to quality workmanship and honest service, a2z grew into a full-service, professionally trained remodeling team operating year-round on high-end homes. The company's evolving identity was in need of a major logo and branding overhaul, and fellow Portsmouth-based graphic design firm Roskelly Inc. was called in to tackle the job.
Richard Bonvegna, a Bristol High School Graduate of 1984, created a2z Renovations after leaving a high-powered corporate engineering position at General Electric in 2002, and moving back to his native Rhode Island to spend more time with his family. After hiring contractors to work on his new home, Bonvegna found himself unimpressed by the level of craftsmanship and professionalism. Having previous experience in renovations and construction, he now felt inspired to return to the craft and launch his own business.
a2z began as a one-man company with a logo to match: a cartoon-style handyman with "a2z" printed on his bright yellow shirt. As a2z's good reputation spread, the company began to expand in size and take on larger and more high-end projects. Bonvegna also realized that it was outgrowing its old logo, and the company needed a new design more appropriate for the type of market and the level of work his multi-person team was now performing. A local news article mentioned Thom
as Roskelly, Creative Designer for award-winning branding and marketing firm Roskelly Inc., also located in Portsmouth, RI. Bonvegna reviewed Roskelly's extensive portofolio, and hired him for the logo redesign and other marketing and branding consulting.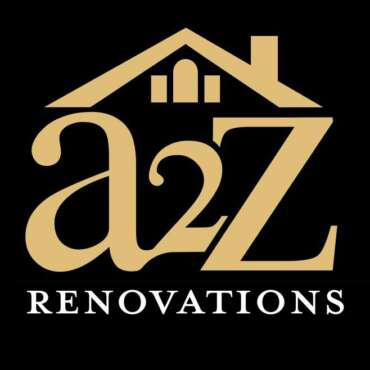 Based on Roskelly's initial research into a2z's identity and the logos of its market and competitors, the redesign process began with a presentation of an extensive variety of possible directions for the new logo design. Bonvegna already had an idea of what he was looking for, and Roskelly worked closely with him to translate the idea onto paper.
"I wasn't looking for an award-winning logo," Bonvegna says. "Most of all, I wanted something that a stranger could see and immediately identify my industry just by looking at it." With this in mind, Bonvegna showed the preliminary design concepts to acquaintances who were less familiar with his business. When they could instantly discern his line of work, he knew he had found the right direction.
Roskelly constructed the new brand to tell the visual story of a2z's identity as an A+ contracting crew committed to a high standard of professionalism. The new logo features the three characters "a2z" in a stylized serif font supporting a roof element, which creates the image of a house, and also includes a Palladian window and a chimney. These subtle elements, in tandem with the symmetrical proportions of the overall design, evoke the type of high-end construction and refined work that a2z Renovations performs. For color, Roskelly chose an elegant tone of muted gold, reddish-brown, and black, which combined create a natural yet sophisticated palette.
"The symmetry and balance are very important qualities in this logo, because they convey the visual sense of a quality job as well as the impression of trust that a good contractor will bring to your home or job site," says Roskelly. I specifically paid close attention to the proportions of size, stroke, and the negative spaces of the final logo design in order to achieve a2z Renovations mission."
a2z Renovations is thrilled to have found the perfect logo to strengthen its brand and original tagline: "Providing service you can trust." The logo will be featured on company vans, shirts, business cards, and a newly designed website.
About a2z Renovations
a2z Renovations is a trusted, full-service, professional and trained remodeling team providing quality services to residential clients in Rhode Island including, but not limited to: Bristol, Barrington, Little Compton, Middletown, Newport, Portsmouth, Tiverton, Warren and Massachusetts including Seekonk, Swansea, Somerset and Westport. a2z's work includes new construction homes, property maintenance and handyman services to kitchen, bathroom, basement and attics renovations, as well as additions, garages, decks, (sheds,) exterior siding, custom trim, and flooring. For more information, telephone 401-454-9000 or visit www.a2zRenovationsRI.com
About Roskelly, Inc.
Roskelly Inc. Creative Brand Consultants, located in Portsmouth, Rhode Island, is a cooperative team of senior consultants that brings full service branding and marketing to its clients, including award winning logos, graphics design, advertising, copy, public relations programs, marketing materials, and web sites. For further information or to see how Roskelly Inc. can create a memorable brands for your company or products, telephone 401.683.5091 or go to www.Roskelly.com