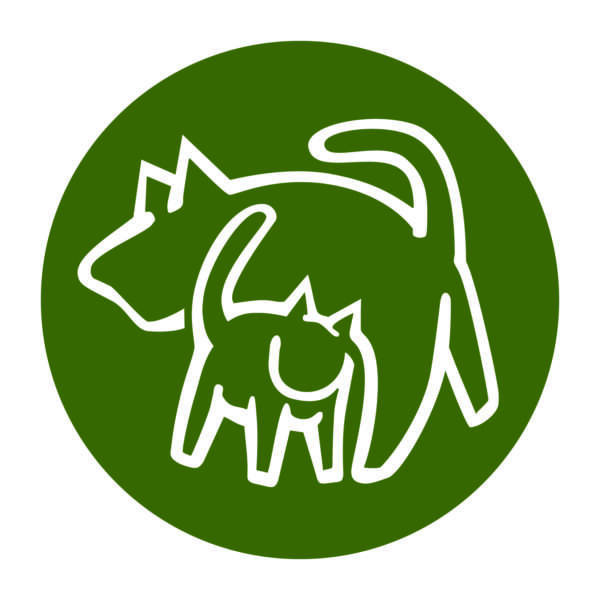 Middletown, RI: The Potter League for Animals is thrilled to announce that its logo, designed by Roskelly Inc. of Portsmouth, RI, has received international recognition and inclusion in the book Logolicious, a competitive compilation of some of the most effective, creative, and "visually delicious" logos from around the globe.
The Potter League's logo, along with 18 other winning designs by Roskelly Inc., was selected for the prominent publication by twelve top creative minds in the field. The logos featured represent a unique mixture of artistic expression and strategic thought.
Published by Cresent Hill Books, Logolicious is an indispensable, pocket-sized guide for anyone interested in logos and branding, graphic design, and merchandising. With its bright pink cover and small size, the book is both striking and easy to carry around. Inside, 1,000 logos were selected from thousands of competitors, but the Potter League logo is especially distinguished because it receives a full page to itself; most pages of the book contain four logos.
"The originality of Tom Roskelly continues to astonish," says Pat Heller, Potter League Director of Development. "His imagination is sophisticated, and his instincts are always on-target. Tom's passion for good design is intuitive; he just knows exactly the right thing to create for each client. Tom works with an enthusiastic twinkle in his eyes and an easy laugh, and we always leave a meeting feeling great and saying, 'WOW!'"
Roskelly recently redesigned the Potter League logo, and created a new tagline: "Enriching Lives." The redesign provided subtle enhancements to the original concept created in 1989, while still retaining its core look, feel, and message.
The Potter League's core philosophy is a dedication to making a difference in the lives of animals by providing humane care, shelter, and treatment, and through community education programs and relationship fostering. The wonderful logo captures the Potter League's mission with a stylized image of a dog and a cat 'nuzzling' each other so that they are almost entwined, showing an affinity between animal species, surrounded by a green circle evoking harmony, growth, and community connectedness.
Christie Smith, Executive Director for the Potter League, remarked on the twenty-year working relationship between the League and Roskelly, saying, "Tom has such creative genius and is a pleasure to work with; we always look forward to the remarkable materials he produces, including our Annual Report and a variety of other materials. He also provided a perfect tool The Potter League Style Guide that allows any other designer that wants to help us out maintain the consistent Brand Style. Our donors and constituents constantly compliment us on the high quality of our materials. Tom spends a great deal of time with his clients, listening to what you need. He works with you to achieve remarkable results together. The Potter League has had a great deal of success using the services provided by Roskelly Inc."
"The purpose of any logo is to be attention-grabbing, recognizable, memorable, and to encapsulate the identity and 'feel' of the entity it represents," says Tom Roskelly. "A winning logos is often essential to the success of any organization's efforts and goals, because it is the 'face' that the audience/community sees most often. The Potter League's logo has become a familiar and cherished aspect of its identity over the past two decades – a testament to the thought and care that went into its original design. To be effective, a logo design must be technically well-constructed, but must also capture the unique purpose and mission of the organization it represents."
About the Potter League for Animals
The Potter League for Animals is dedicated to making a difference in the lives of animals. We promote the humane treatment of all animals and provide shelter and care for lost or unwanted companion animals. Through community education and the fostering of relationships between people and animals, we enhance the animals' future and enrich the human experience.
About Roskelly Inc.
Roskelly Inc., Creative Brand Consultants, located in Portsmouth, Rhode Island, is a cooperative team of senior consultants that brings full service branding and marketing to its clients, including award winning logos, graphics design, advertising, copy, public relations programs, marketing materials, and web sites. For further information, telephone 401.683.5091 or go to www.Roskelly.com
Of the 1,000 logos included in the book, 16 belong to Roskelly Inc.
They include:
The Potter League for Animals
Paella Alfresco
The Tori Lynn Androzzi Foundation
Susan Oldrid Interiors
Trivia Kingdom
The Hudner Oncology Center
The Stables at Millennium
Local Hooker Rods
Pizza Plus
Phillips Communications
The Intech Group
Green Earth Corporate Kindness Organizatio
Red Jacket Resorts
True Nicks
Edge Angling
Regan Auto Works