LogoLounge 7 features the Allie's design by Thomas Roskelly as one of the finest logo designs from the past year, judged by a select group of international designers
Roskelly Inc., of Portsmouth, RI, announces that one of their logos has been selected for the LogoLounge series of books for the 4th consecutive year. The Allie's script logo design was chosen for the LogoLounge book 7.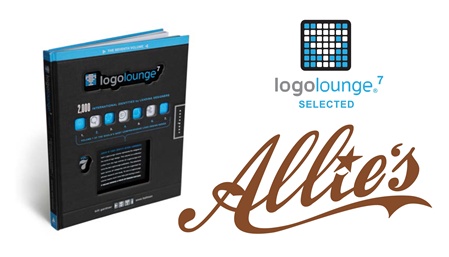 LogoLounge 7 celebrates the finest logo work by top international designers. The publication features the site's best designs from the past year, as judged by an elite group of leading designers.
Over 34,000 logos were submitted for consideration, with the caliber of work being exceptional. Each judge reviewed thousands of logos from around the globe, all submitted by talented LogoLounge members. The final collection is an excellent point-in-time branding examination, full to the brim with inspiration, higher thinking, and craftsmanship.
"When creating brands, I try to make every one of them unique," Thomas C. Roskelly said. "I design memorable brands for my clients, and that is why they win awards."