When Birches Academy of Arts & Academics opened its doors in September 2012, the founders did an amazing job of pulling together a school out of thin air. Housed in the former Furniture World on Route 28 in Salem, the space featured traditional classrooms, art space, hallways with coat hooks, computers and everything else a school needs to function.
A basic website provided necessary information to parents wanting to learn more about the school. However, the format was clunky and difficult to update. Users did not always find the navigation easy to use. As a result, the school was looking to other methods to communicate with parents.
"We did what we needed at the time," said Head of School Dr. Dael Angelico-Hart. "After we settled in to our first school year, it was time to make some improvements."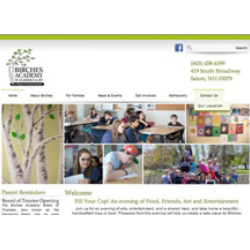 "The Birches wanted a platform that was easy for the administrators to use and update by themselves. They didn't want to have to call us every time they wanted a new calendar entry,"
The final design also had to be user-friendly. With so much information housed on the site, the files had to be organized such that a parent could easily see up-coming events, find the most recent newsletter or contact a staff member.
Creative Director Tom Roskelly worked with Birches on their requirements and a layout to best address their concerns.
"The page had to effectively use white space so that it would be easy to read. We included key information on the home page for parents to find what they needed quickly," said Roskelly. "We also made some design choices to increase the rankings with the search engines."
"Now our website really looks like a school's website," said Business Administrator Jessica Wachsman. "And when i learned how easy it was to make updates, I knew we had arrived!"
"We are excited about our new site," said Angelico-Hart. "It brings fresh energy to our school and a sense of professionalism as well. The creative team were able to help us accomplish our goals, and gave us so much more!
About Birches: The Birches, which opened in September 2012, is a New Hampshire state charter school located in Salem, N.H. Its arts-integrated curriculum is designed to to help learning occur for each and every child. For more information, visit www.birchesacademy.org