Patent attorney Dan Salehi knew he needed to make an impact as he launched his own intellectual property law firm. He was looking for a solid logo to make his new firm stand out from the many other offices that provide legal services to companies in the Southern California region.

Creative Director Thomas Roskelly wanted to avoid the stereotypes associated with law firms. "So often, you see the cliche gavel, scales of justice, or designs with just boxes," said Roskelly. "For a patent attorney, the over-used look is a technical drawing. We wanted to do something different for Dan, a design with a strong base."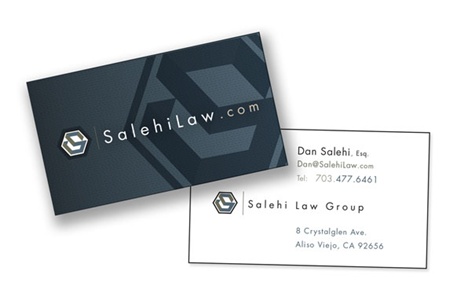 The final brand is a three-dimensional box image that visually forms the letter "S", all contained within a hexagon border. Combined with the color used, the final result is approachable yet technologically advanced.
"We chose the hexagon because of its efficiency," said Roskelly. "In nature, the hexagon is the most structurally sound shape in construction. Just like in a honeycomb, the sides may be short, but are capable of covering a large area. That is how we want to portray the Salehi Law Group.
About Salehi Law Group
Salehi Law Group is an intellectual property law firm offering clients counseling and service with respect to patents, trademark, copyright, trade secret and other matters. The group specializes in providing in-house services to its clients. For more information, visit www.salehilaw.com